Parzelle 62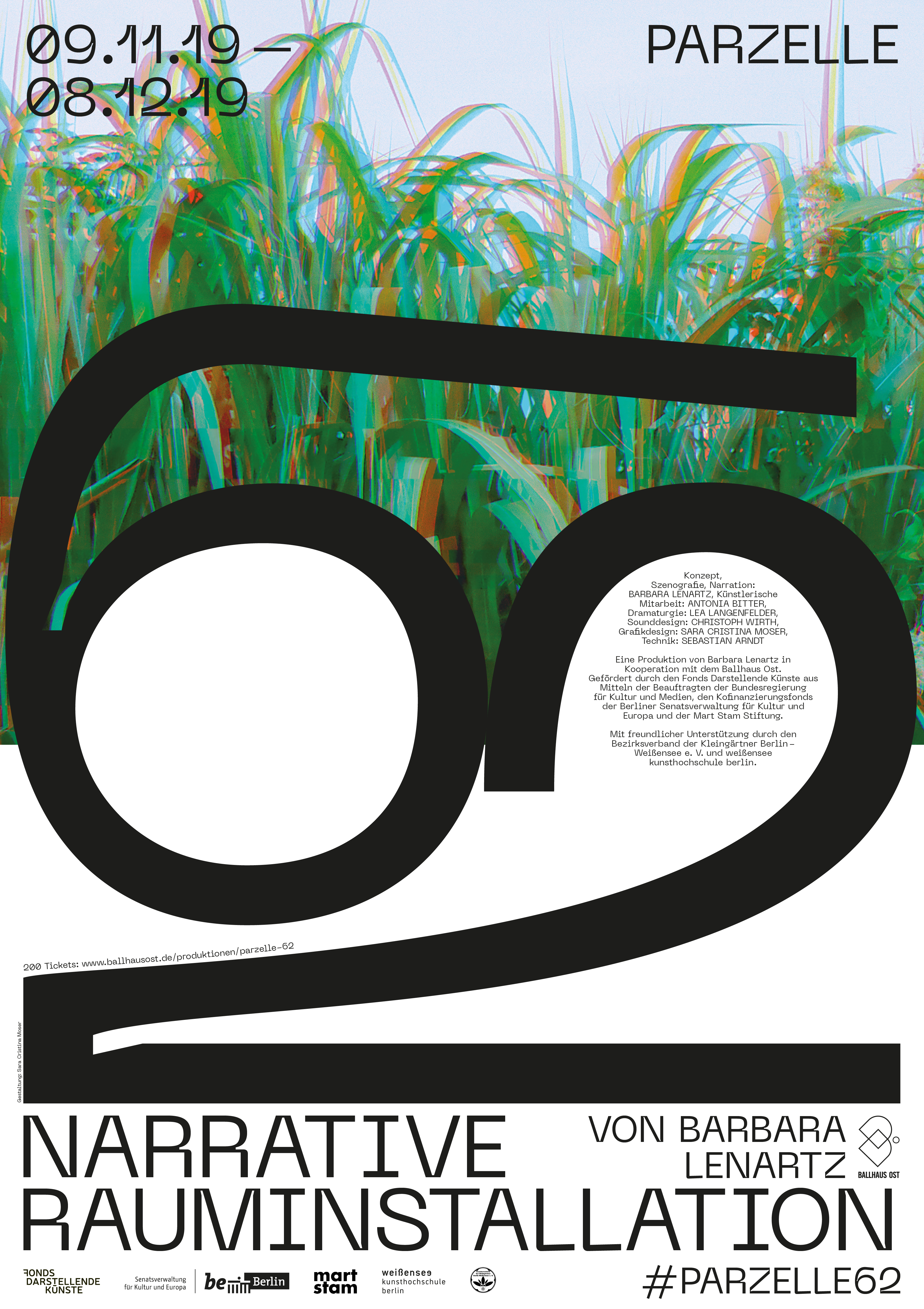 Plakat für die narrative Rauminstallation von Barbara Lenartz. In Parzelle 62 ist der Raum das Narrativ: abgedunkelte Fenster, Bildschirme von Überwachungskameras, kryptische Zeichnungen an den Wänden, überall verstreute Notizen. Alleine entdecken die Besucher*innen das detailliert ausgestaltete Mikrouniversum eines zurückgezogen Laubenbewohners. Seine Geschichte und Auseinandersetzung mit Verschwörungstheorien entfalten sich für jede*n Besucher*in neu.

Es entstehen multiple konstruierte Realitäten, bei denen jede*r Alltagsgegenstände zu einem anderen Bild eines Lebens zusammensetzt. Schleichend werden die Gäste zu Voyeur*innen, Kompliz*innen und Akteur*innen und können nach ihrem Besuch den Diskurs über die Theorien des Kleingärtners im Netz weiterführen.



Seit 2015 erforscht Barbara Lenartz das Potential von narrativen, immersiven Rauminstallationen als ästhetische Erkenntnisräume, in denen konkrete gesellschaftliche Realitäten zu künstlerischen, vielschichtigen Erfahrungen transformiert werden.
Poster for the narrative space by Barbara Lenartz. In Parzelle 62, the space is the narrative: shaded windows, screens of surveillance cameras, cryptic drawings on the walls as well as wildly scattered notes. All by themselves, the visitors discover an extensively devised micro-universe of the secluded owner of a small bower. His story and his dealing with conspiracy theories unfold for every visitor anew.
Multiple constructed realities develop in which everyone builds their own image of a life according to the everyday items. Slowly the guests become voyeurs, accomplices and protagonists who can continue the discourse about the hermit's conspiracy theories online after their visit.

Since 2015, Barbara Lenartzexplores the potential of narrative, immersive space installations as aesthetic spaces of insight and discovery in which tangible social realities are transformed into complex artistic experiences.